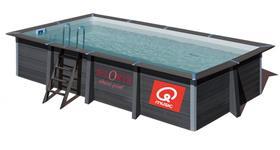 The BelOrta cooperative is taking advantage of the current desire in Belgium to stay home this holiday season, joining forces with radio station Qmusic to give listeners the "Pool Experience".
According to BelOrta, listeners of the Q Morning Show will be able to take part in a competition to win a mobile swimming pool for their own "staycation pool party", delivered complete with snacks and cocktails provided by BelOrta.
As usual this summer, Qmusic is going on its local holiday to Ostend in West Flanders, sponsored for the second year by BelOrta. In order to ensure extra space for beachgoers, the live radio show has moved from the beach to Maria Hendrikapark.
As part of the collaboration, TV and radio spots promoting BelOrta fruit and vegetables will be seen and heard over the course of the summer on Qmusic TV and radio.
"As the exclusive sponsor of Concert Nights on Friday (with performances by the most popular Belgian artists), BelOrta products will be permanently visible in the studio," the cooperative announced, "and you'll be able to admire BelOrta on Qmusic's online channels. On to a blissful summer staycation!"