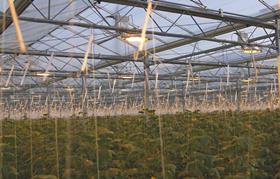 Due to the high demand for high-quality, locally grown produce, Belgian cooperative BelOrta is focusing on cucumbers cultivated under lights for the fourth winter in a row.
According to BelOrta, the winter cucumber season is now running at full speed, having commenced at the start of November.
The season stretches until the end of February, syncing up neatly with the start of traditional open cultivation, allowing for high-quality locally grown cucumbers to be offered year-round.
"This year the season for lit-cultivation cucumbers got off to a better start than in previous years,' said Bruno Vuerinckx, sales supervisor at BelOrta. 'This can be explained in part by the lower quantities coming from the south of Europe.'
BelOrta's lit cultivation is focused on cucumbers of 350g and 400g, which are mainly auctioned through clock sales, available both in a plastic seal and wrapped with a paper band.