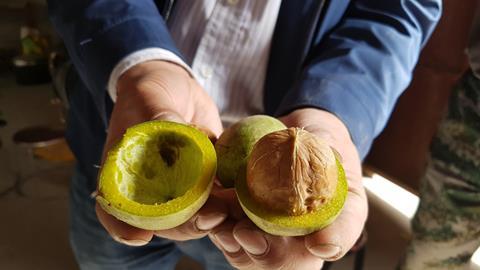 Leading dried fruit and nut company Besana Group has revealed it is investing €2m to boost nut supply in Europe and Asia, as it bids to expand global supply by sharing its knowledge of varieties,
The Italian company, which presented its plan to foster innovation in the supply chain during the recent Macfrut trade exhibition in Rimini, said it was aiming to "enhance" the cultivation of walnuts, hazelnuts and almonds by establishing joint projects with producers in central Europe and central Asia.
According to the group, there are several areas in those parts of the world where the soil and climatic characteristics allow the crops to perform at their best.

Key to the project, it said, was a broad knowledge of the varietal characteristics of cultivars identified by Besana Group during almost 100 years of activity, not to mention the vast experience of its president, renowned dried fruit and nut expert Giuseppe 'Pino' Calcagni.

'The goal of the project is to increase the production of nuts, favouring the diffusion of valuable cultivars," Calcagni commented. "The project also has very important social implications, such as the growth of poorly developed areas and the introduction of modern agricultural technologies among the local populations."
Besana's international development plan is divided into several phases: firstly, young hazelnut, almond and walnut plants are grown by micro-propagation or grafting in leading Italian and Spanish nurseries; the plants are then sent to three centres specialised in hardening (the preparation of plants for a natural growth environment), before being distributed to producers in Europe and Asia.

Besana is also providing its partners with technical assistance and support in the construction of irrigation systems, as well as consultancy on mechanisation, which it described as "fundamental" for this type of agriculture.

In 2017, Besana officially opened three production sites in Kazakhstan where it is overseeing trials to compare walnut and hazelnut varieties originating from Europe, America and Asia.

The partnership project is seen very much as a new way of doing business, suggested Calcagni.
"In the past, only the consumer products spoke for us, with market proposals that for several years now have seen us at the top in the retail market and industry," he concluded, "but from now on it will also be the model of integrated supply chain international to stand out."
He added: "Starting from the selection of the cultivars, through the modernisation and the support of the agricultural activity, up to the marketing of the product all over the world. A unique development project that brings value to all partners involved, for a final product with high added value."