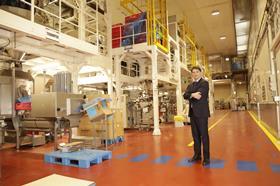 Besana Group, a world leader in dried fruit and nuts, has set itself the target of only using fully recyclable packaging across its entire business by 2025, an approach it says will mean its packs have zero environmental impact and lead to zero waste.
Like many companies in the Italian fresh produce industry, a commitment to reducing its impact on the planet has prompted Besana to undertake a programme of ambitious green initiatives over the coming decade and a half. In 2020, for example, one quarter of the packaging it uses will already be completely recyclable. According to chief executive Riccardo Calcagni, it remains on track to make that 100 per cent within the next five years.
'We have been investing an important part of our resources in environmental sustainability for years," Calcagni confirms. "We want now to strengthen and enhance our green objectives through the implementation of concrete actions that, within the next 15 years, will lead us to adopt a proper circular and virtuous system for all our production worldwide."
The group's commitment to reducing the amount of plastic used throughout its global supply chain is also reflected in new packaging being designed for use on various product lines in future. As GianPaolo Gentile, Besana's head of purchasing and its in-house packaging specialist, explains, these pack formats are set to be 100 per cent biodegradable and compostable, and will be introduced to the market shortly.
"It will be made entirely with materials derived from cellulose: both the base, a real substitute for the current plastic trays, and the top film that closes it," he comments. "It's a solution designed to be completely recoverable on paper, a concrete and eloquent example of our commitment to the environment.'
Besana currently uses a total of 35 different types of packaging across its four different production sites, turning out over 125m individual units of 150 different product lines every year. In 2020, single-material packaging made from polyethylene was developed and launched on the market. Recognised as fully recyclable by one of its key markets the UK, the simplified packs reportedly saved nine tonnes of carbon dioxide.
Those kinds of saving are helping elsewhere in Besana's business, resulting in less plastic being consumed and more recycled raw materials being used instead. In 2019, the group reduced its carbon dioxide consumption by almost 500 tonnes, rising to 2,000 tonnes when factoring in improvements in other production processes.
This article first appeared in Fresh Focus Italy, Fruitnet's annual publication about the Italian fresh fruit and vegetable business.