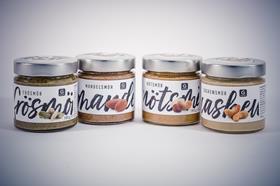 Italian dried fruit and nut company Besana is bringing nut butter to the Swedish market, offering it as a healthy alternative to conventional spreads.
Made entirely from nuts or seeds, and with no artificial ingredients, the product will be sold under the Garant brand and available in four varieties: cashew butter, almond butter, seeds mix butter, and a nut mix butter.
"Nut butter is a real 'extract' obtained exclusively from tree nuts," explains the group's PR manager Vittoria Calcagni. "It's a product that responds perfectly to the latest consumer trends, linked to well-being without sacrificing taste."
Besana said it had spent the past year developing the nut butter range in response to growing consumer demand for healthy alternatives to more traditional spreads.
It even overcame the challenges presented by Covid to carry out meticulous internal and external panel tests, resulting in a product that it said meets the needs of the modern-day consumer.
"With a high protein content, it is naturally rich in precious nutritional elements and totally free of preservatives, colorings and artificial flavors," Calcagni adds.

The product is aimed at different consumption occasions, including breakfast, midday snacking, or as an ingredient and topping in dishes.
Its simplicity is also seen as making it especially suitable for vegans and those on lactose-free diets, as well as a substitute for dairy butter and margarine, offering a rich, balanced supply of nutrients like unsaturated fats and mineral salts.
The new line is also environmentally sustainable as well as innovative. Thanks to its glass jars, washable (and removable) labels and cardboard made from FSC-approved paper sources, and lids certified BPA-Ni and PVC-free, the packaging used is 100 per cent recyclable.
As a leading supplier of nuts and dried fruits and a major commercial force in the international market, Besana Group is already active in Scandinavia. It has worked with Axfood to supply the retailer's premium branded range Garant over the past four years.
The addition of a nut butter line is expected to help the range grow further, Calcagni adds: "We are already working on introducing new recipes to expand the range as early as next spring."
Enjoyed this free article from Eurofruit Magazine and its team of editors? Don't miss out on even more in-depth analysis, plus all the latest news from the fresh produce business. Subscribe now to Eurofruit Magazine.