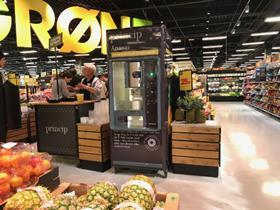 The introduction of an automated dispensing unit that provides shoppers with tubs of freshly cut pineapple pieces has gone down well in Denmark, according to Dutch Food Technology (DFT), the company responsible for supplying the machine.
Marketed as Piñabar, the Dutch-designed machine was introduced recently at a branch of Bilka, the hypermarket chain owned by Salling Group (formerly Dansk Supermarked) in Aalborg, Denmark's fourth-largest city.
"It was received extremely well and sales rose significantly," said a spokesperson for DFT. "[It's] confirmation that the Danish people love a fresh-cut pineapple. We wish them the best with their beautiful store in Aalborg."
Piñabar first introduced its in-store pineapple cutting concept six years ago in the Netherlands, where it has already established partnerships with Albert Heijn, Jumbo, Coop and Plus.
In Spain, meanwhile, it recently began working with French retail giant Carrefour.