Dutch importer Yex says demand in northern Europe for the diminutive Italian limequat variety is strong and set to increase this season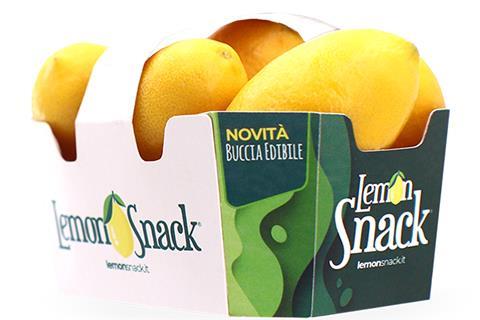 Tiny Italian lemons with edible skins and a sweeter taste are creating a buzz in parts of northern Europe, as demand for the relatively unknown fruit increases.
Marketed as Lemon Snack and grown in the southern Italian region of Basilicata by the producer organisation OP Ancona, the fruit recently made a notable splash on social media channel TikTok in Sweden.
One video posted by Swedish influencer Anna Antonje, which shows her as she samples the fruit enthusiastically, has attracted more than 2.1m views since it was posted in early November.
At present, Rotterdam-based importer Yex is the only importer in the Netherlands that sources the the product – actually a variety of limequat – for sale to customers throughout Europe.
"We started with Lemon Snack in 2022," says managing director Martijn de Graaf. "We stepped in halfway through the season, so we only did around two to three pallets per week. The rest was already pre-sold to other customers."
But he says when last season ended in May 2022, the positive market response and strong demand from customers and consumers convinced the company to secure bigger volumes for this campaign.
As a result, sales growth has been strong. The fruit is now sold in the Netherlands, Germany, Denmark, Norway, Finland, Sweden, France and Belgium.
"We sold them mainly to retail customers, but also our wholesale customers did really like the product," De Graaf explains. "Requests for more volume came especially from Sweden, but in particular since 2022, demand has increased heavily in all the countries."
According to Mario Ancona, who oversees the Lemon Snack project at OP Ancona, the citrus fruit is harvested between December and March. "For now, cultivation only comprises half a hectare," he told Italiafruit News. "But the idea is to expand the planted area in the coming years."
Consumer tests organised by the supplier apparently suggest the limequats have good potential as a snack fruit, since their acidity is lower than a typical lemon. "The pleasant taste is the result of the particular flavour contrast between the peel and the pulp," Ancona adds.
For Yex, the commercial opportunity is an intriguing one. "We already agreed on larger volumes for next year," says De Graaf. "The product looks very nice, it tastes good, you could use it in different recipes, and you have no waste. And if we haven't convinced you yet, it's also packed in a really nice basket."