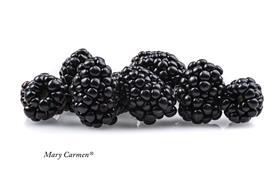 Blackberries could soon be propelled to superfood status thanks to new research from the University of Arkansas (UA) Department of Agriculture showing that they are a nutritional powerhouse.
Emco Cal, which has been representing the UA's blackberry breeding programme since 2011, believes the results of the studies, together with the development of better-tasting new varieties and increased availability, will fuel a surge in consumer interest over the fruit in the coming years.
Emco Cal's commercial manager for South America, Central America, the Caribbean and Canada, Josefina Justiniano, who has an MBA degree as dietician, says the research provides solid, scientifically-backed data showing that in terms of nutritional value, the UA's blackberry varieties are comparable – and in some cases superior – to blueberries.
"Aside from the well-known benefits berries provide, a very interesting find in the research was that blackberries are one of the main sources of Flavonoides including Resveratrol, which is also present in grapes and red wine. Resveratrol produces phytoalexin, a substance that inhibits the growth of parasites or pathogens like bacteria and fungi," she explains.
"Numerous studies have shown Resveratrol to have beneficial effects on human health, including anticancer, antimicrobial, neuroprotective, antiaging, anti-inflammatory, cardioprotective and blood-sugar lowering properties, as also life-prolonging effects."
Blackberries also contain high volumes of antioxidants like anthocyanins and flavonoids – even higher than in blueberries. Epidemiological and clinical studies suggest that antioxidants in the form of flavonoids and anthocyanins, found in blackberries, may reduce the risk of obesity, heart diseases and degenerative conditions, contributing to good health.
Furthermore, blackberries are an excellent source of vitamins A, E and C. Vitamin A is a key nutrient contributing to vision. Vitamin E strengthens the immune system. Vitamin C improves the immune system, prevents anaemia, and facilitates the absorption of iron.
And with only 62 calories per 120g serving, blackberries are ideal for those looking to eat a healthy diet. "They are high in fibre, which helps to regulate intestinal transit, increases the feeling of satiety, helping to prevent obesity, controls blood glucose levels, among other benefits," Justiniano says.
With consumer interest in health and nutrition at an all-time high since the onset of Covid, Emco Cal plans to leverage the findings by sharing them with its global network of growers, nurseries, marketers, and retailers.
The nutritional research that UA has done on their blackberry varieties also plays a key role in the variety selection process. As well as measuring vitamins and other nutritional content, the researchers also measure soluble solids including Brix, acid content, and other factors in their advanced testing stages and then weight their results towards known consumer preferences.
Mamen Sánchez, Emco Cal's technical director, believes that as new and better varieties aligned to consumer tastes are developed and the availability of blackberries improves, consumption will increase markedly. "Up to now it has been very difficult to keep blackberries stocked in grocery stores. They are very popular with consumers, so they sell out fast, and supplies have simply not been able to keep up with demand," she says.
"We are working very hard to increase the supply of premium blackberries, starting with key target markets and then expanding throughout the world. Our goal in partnering with UA was to offer a wider range of high-quality berry crops to our global customers. The UA Department of Agriculture is a legendary pioneer in blackberry breeding, having developed the first primocane fruiting blackberry."
The UA has since released many well-received varieties, such Mary Carmen Brand and Horizon Brand (both primocanes), and Ponca Brand and Caddo Brand (floricanes), which Sánchez says have been very well received by growers, retailers, and consumers.
The primocane varieties in particular, have been a game changer for the industry as they allow blackberries to be grown in all climates and countries, enormously extending their production potential.
In warmer and zero-chill growing areas, primocane varieties can bear fruit continuously through the entire year. In cooler growing areas with winter chill, they produce two distinct crops: a floricane crop during the spring/summer and a primocane crop during the summer/fall.
"This new flexibility of primocane blackberry varieties allows growers to expand their production into temperate growing areas with cold winters and frost, as well as sub-tropical, tropical, and desert-like growing areas with zero-chill and quite hot temperatures," Sánchez says, noting that a growing number of producers in Latin America and the Caribbean are now planting blackberries whereas previously there was no option for them to do so.
Emco Cal supports them by providing technical support to convey the best and newest growing techniques for the varieties that it represents. "In the past years, we have focused strongly on expanding our collaboration with growing partners in many new regions, such as Spain, Italy, the UK, Poland, Ukraine, Turkey, Central and South America, South Africa, Egypt, Morocco and many more," Sánchez continues.
"At the same time, we work with buyers and retailers to secure their supply of strawberries, blackberries, and raspberries year around. Our blackberries are already sold through several well-known retailers around the world, and we should be seeing more very soon!"