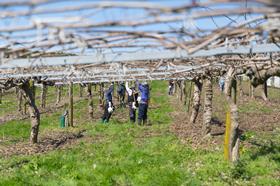 Industry association New Zealand Kiwifruit Growers has welcomed a government announcement that migrant seasonal workers will be allowed back into the country after mid-March, but said the reopening of its international border would come too late for this year's harvest.
The horticulture industry has flagged what it sees as a chronic labour shortage in New Zealand, one that has undermined efforts to cultivate and harvest fruit including kiwifruit and apples.
In a statement, NZKGI chief executive officer Colin Bond said it remained unclear exactly when the borders would open and which nationalities would be able to apply for a Working Holiday Visa.
"While we are hopeful this policy change will bring in workers to pick and pack, it is unlikely to make a significant difference to our pending labour shortage over harvest," he said.
"This a unique situation and the extent of how many backpackers would enter New Zealand is unknown. Further, the expectation that a large number of Working Holiday Visa holders would quickly enter the country to help with our harvest is highly speculative."