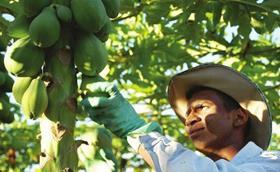 The Brazilian Embassy in Kuwait and fruit association Abrafrutas held an event for local importers to promote Brazilian fruit in the Middle Eastern country.
During the meeting, a presentation was held for key importers and distributors representing some ten Kuwaiti companies, highlighting Brazil's fruit industry and showcasing production, export and logistics.
Brazil is the third largest fruit producer in the world, harvesting 44.3m tonnes last year, of which less than 3 per cent was exported.
According to a report in ANBA, the chief adviser to the Embassy's Trade and Investment Promotion Sector (Secom), Claudia Assaf, there was a high level of interest shown among importers in Brazilian fruit – even though it sells for higher prices in Kuwait because of the logistical challenge shippers face reaching the market.
"To get access to Kuwait's market, fruit exporters need to basically work on three fronts at once: to consider approaching the Gulf Cooperation Council (GCC) as one market, instead of thinking about each country separately; to include all GCC countries in deal-seeking missions; and to consider logistical alternatives that will lower transportation costs for importers, so Brazilian fruit can reach end buyers at competitive prices," Assaf told ANBA.
Most Brazilian fruit reaches the Gulf through after passing through key re-export hubs like the Netherlands and the US, and frequently the time it will also go through a second regional hub, like Jebel Ali, in Dubai.
"The amount of middlemen, coupled with heavy competition from equally good fruit from nearer countries, and the fact that there are no trade missions to promote Brazilian fruit in Kuwait, are the main obstacles that explain the fact that there's no Brazilian fruit in Kuwait," Assaf explained.
Joining the event via video conference Abrafrutas projects manager Jorge de Souza outlined the association's work, the challenges inherent to the shipping of fruit, and Abrafrutas' plans to add Kuwait to a 2020 mission to promote Brazilian fruit across the region.
According to the Arab Brazilian Chamber of Commece, Kuwait imported US$3.3m worth of fruit directly from Brazil last year.