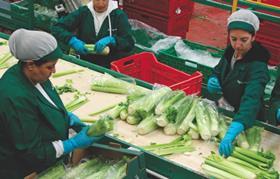 Maintaining the UK's relationship with the single market is a top priority for Spanish fruit and vegetable exporters, according to Fepex.
As the UK government prepared to kick off Brexit negotiations on Wednesday, the Spanish exporter federation said concerns among its members over the UK's withdrawal from the European Union were rising.
"Fepex considers it a priority to continue with a single market without borders between the EU and the UK to preserve market access and maintain the homogeneity of legislation, since the phasing out of EU rules could throw up phytosanitary barriers and create competitive distortions," the association said in a press release.
The UK is Spain's third biggest export market, taking 1.5m tonnes of fruits and vegetables with a value of €1.762bn in 2016.
Vegetable exports to the UK rose by 11 per cent last year to €815.9m, with cauliflowers, lettuce and tomatoes the three leading products in value.
Fruit exports increased by 7 per cent to €946.4m during the same period. Mandarins are the biggest individual item but the biggest rise in shipments was in raspberries (+38 per cent).
Agricultural union COAG said the cost of the UK leaving the single market would be considerable.
"Walking away from single market is not easy and the ensuing financial losses and trade restrictions would end up hurting everyone," José Luis Miguel de Diego told Spanish news channel RT.
While the UK was unlikely to change its supply sources in the short term, an unsatisfactory outcome to negotiations could lead to the UK establishing preferential trade deals with other countries such as the Commonwealth nations, Miguel de Diego said.
Meanwhile, Argentina believes exports of fresh fruit and vegetable to the UK could rise sharply in the short term following Brexit. Speaking during a trade mission to London this week, Luis Miguel Etchevehere, president of the Argentine Rural Society (SRA) said the UK's decision to leave the EU created a major opportunity to boost trade between the two nations.
SRA identifed lemons, blueberries, mandarins, topfruit and cherries as potential winners, claiming exports to the UK could reach levels not seen since the imposition of restrictive trade policies imposed by Cristina Kirchner's government.