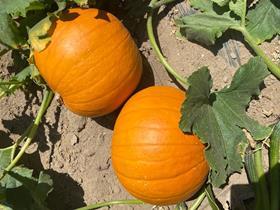 Van Groningen & Sons is gearing up for strong demand for its pumpkins this autumn. With the pandemic confining many children and parents to their homes, the Manteca, California-based grower expects an upswing in pumpkin decorating as families seek to maintain a sense of normalcy.
The company expects a bumper crop of medium carving and pie-sized pumpkins after what it describes as near perfect growing conditions, with harvesting running somewhat earlier than usual.
"Most of the reason for the bumper crop is the temperature," said plant health manager Tommy Van Groningen.
"The heat did not cause many blossoms or young pumpkins to burn off. The bees were also working most of the day since it never got too hot. The cool nights allowed the plants to properly respire so they weren't sending all their energy to just survive. They were able to spend more of the inputs on producing a crop."