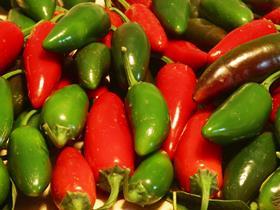 Cal Fresco is voluntarily working with the Food and Drug Administration (FDA) and the California Department of Public Health (CDPH) to recall fresh Jalapeño and Serrano chilli peppers due to potential contamination with Salmonella.
While no illnesses have been reported to date, random sampling on 12 December 2011 by the FDA has resulted in Cal Fresco Jalapeño and Serrano peppers testing positive for Salmonella.??The Jalapeño recall is limited to one lot (#205610) containing approximately 18,500 lbs of peppers.
The lot was distributed to retail stores within California, Oregon, Washington, Texas and Canada on 3-5 December 2011 under both the Cal Fresco and Grower Alliance labels.
The source of the contamination is unknown but Cal Fresco's recall and traceability programme has enabled the company to quickly identify the supplier of the affected product, which originated in Mexico.
As for the Serrano peppers, based upon information provided to Cal Fresco by the FDA and CDPH, the product was delivered to a retail distribution centre in Spokane, Washington on 8 December.
However, because the USDA Sample and Isolated Pathogen Information Report failed to disclose individual lot numbers, and because the results of that report were not provided to Cal Fresco until 19 December, (five days after the sampling occurred), Cal Fresco must rely on information provided by the FDA and CDPH to trace the contaminated peppers to their source.
Based on that information, Cal Fresco has identified the affected peppers as being part of Lot #205467, originating in Mexico.
Cal Fresco has ceased the distribution of all produce from both its Jalapeño and Serrano chilli pepper suppliers while the FDA, the California Department of Public Health, and the company continue their investigation into the source of the contamination.