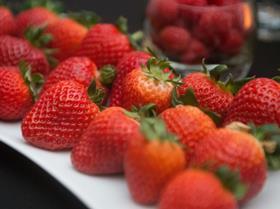 California Giant Berry Farms and Measure to Improve (MTI) have announced the Sustainably Grown certification of Satsuma Farms, a strategic strawberry grower-partner for California Giant, under the standard of SCS Global Services.
Satsuma Farms, located in Watsonville, California, is the first strawberry operation in the world to achieve this particular certification.

Together, California Giant and MTI worked to determine which sustainability certification best met the needs of the company's growers, ultimately selecting Sustainably Grown.
This standard uses a triple bottom line approach, addressing issues related to social, environmental and economic sustainability, and mirrors California Giant's own People, Planet, Product model.
"Sustainably Grown is a challenging certification, but it was the best one for California Giant because it aligns with our own long-term approach to sustainability,' said Joe Barsi, president of California Giant. 'This certification reflects our commitment to treating the environment and the people involved in our supply chain right."

Recent years have shown a marked increase in buyer and consumer interest in produce grown sustainably, with emphasis on equitable social practices.
Rich Uto, owner of Satsuma Farms, said he saw the importance of addressing sustainability in the near-term.
"Food safety requirements expanded rapidly over a short period of time,' he said. 'Sustainability is the next step for growers. We live differently now, and we need to do things differently. There's no time to waste – just make the time and get it done."
With MTI's support, California Giant launched a pilot certification project at Satsuma Farms, who leases land from California Giant, in 2018.
MTI provided hands-on guidance at Satsuma Farms for the duration of the pilot, which culminated in the landmark certification in August 2020.
Kevin Warner, manager, sustainable agriculture at SCS, was impressed by the dedication and success of the pilot, noting that "Rich Uto and his team at Satsuma Farms did a great job on their Sustainably Grown certification audit. At SCS we set a high bar for sustainability in agriculture with a thorough investigation of practices to ensure the protection of farmworkers, environmental sustainability, and the economic resilience of the farming operation.
'Satsuma Farms exceeded our expectations in meeting the stringent requirements of our standard,' Warner noted. 'Working with Measure to Improve expedited the audit, saving time and money for the client, and ensuring a smooth process in certifying the world's first Sustainably Grown certified strawberries."

California Giant has no plans to slow their sustainability plans, despite the pandemic, and the company said it would continue working with MTI to roll the certification programme out to more of their growers over the next few years.
"In piloting Sustainably Grown at Satsuma Farms, California Giant has positioned itself to have a credible response to this growing market demand for sustainability assurance,' Warner added. 'Cal Giant's commitment to their growers, customers, and communities is now underpinned by our robust third-party certification, and they have differentiated themselves in an increasingly competitive business landscape by being a first mover towards Sustainably Grown certification in the berry industry."