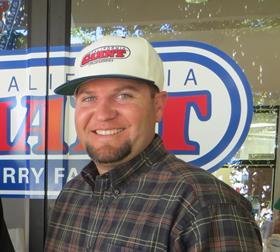 Watsonville-based California Giant is gearing up for an abundant crop as the new season gets underway in the Golden State.
Harvesting began on Monday, just in time for the Easter Holidays, and with shoppers focused on health, wellness and at-home cooking, the company anticipates strong consumer demand.
"Not only are our Watsonville and Salinas seasons kicking off this week, but our Santa Maria and Oxnard regions are currently loaded with fresh strawberries – with Oxnard to peak over the next two weeks, and Santa Maria continuing to increase with volumes unlike we have seen in years," said Nick Chappell, director of retail sales.
"Not only are we about to have momentous supply for our partners during a time of increased retail demand, but all regions are producing exceptional quality to kick-start the spring season."
The berry company launched an email-marketing campaign over the weekend that targeted its most engaged shoppers in their database, known as its 'Berry Squad'.
"With the uncertainties and difficulties families are currently facing, we wanted to offer an incentive and support to shoppers that are looking to stock up on fresh, nutritious berries on their grocery runs," said Chappell.
With consumers staying at home in their droves because of coronavirus fears, the company is making a play to connect with its customers base digitally.
"We're seeing our database of loyal consumers more plugged-in and connected than ever before," said marketing manager, Morgan Maitoza.
"While routines and realities look very different for families across the nation at this time, our goal is to continue to connect with our shoppers, provide helpful, relatable and comforting content and attainable recipes with ingredients and pantry staples shoppers may already have in their own homes, while adding in the sweetness, diversity and nutritional benefits of berries."
The berry company is gearing up for a new, springtime promotion in April that is unique to all previous spring promotions it has done in the past.
It will focus on continuing to move berry supply during the heavy volume periods, providing families with recipe and content inspiration for heading 'Back to the Basics'.