Increased volumes from Peru and Mexico and new proprietary premium varieties place company on secure footing
Camposol is forecasting a significant increase in its Peruvian blueberry volumes this season thanks to high productivity on its farms.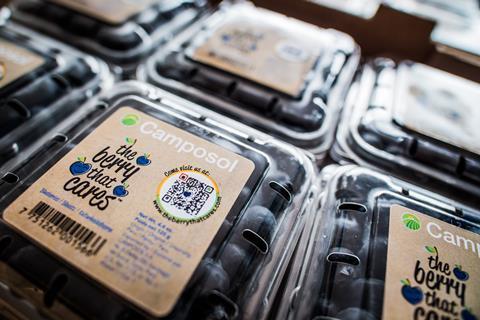 With the Peruvian blueberry campaign now in full swing, the company said its retail customers are increasingly interested in maintaining their supply programmes from Peru beyond its traditional late summer/fall season thanks to the country's extending seasonal window.
Camposol claimed to be very satisfied with the performance of its worldwide blueberry business and the outcome of continuous innovation efforts.
In the forthcoming years, Camposol said its blueberry volumes would rise at a more modest pace, in part due to the replanting of existing fields with new varieties.
A considerable part of future growth will come from Mexico, where the company is expecting a faster development than in Peru with a two-pronged strategy – both gradually expanding its own farming operations in Sinaloa and partnering with independent growers to bring their production to the market under the Camposol brand.
About 50 per cent of its production is destined to the North American market, 25 per cent to Europe, 20 per cent to China, and 5 per cent to other regions.
Camposol said it sees a positive trend in consumption of organic blueberries for both the US and the EU market – although consumption might be affected by the war in Ukraine.
Approximately 8 per cent of the 223,000 tonnes of blueberries exported from Peru in 2021/22 were from organic production, mainly for the US market.
"From the very beginning, it was important for us to offer its customers both conventional and organic blueberries," the company said. "Even our conventional production can be considered 'semi-organic', as it is grown with almost no chemicals."
As part of its sustainability strategy, Camposol said it also continues to work at full speed to extend the use of heat-sealed packaging which saves more than a third of the plastic material compared to the traditional clamshell. Further packaging innovations are currently being tested.
Nevertheless, as more and more players around the world enter the blueberry business, competitive pressure is growing.
Camposol's CEO, José Antonio Gómez, commented: "Our response to this more demanding environment has been to redouble efforts to provide great service as a vertically integrated supplier with commercial platforms in North America, Europe, and China.
"Furthermore, Camposol's multi-year breeding programme has successfully yielded some new proprietary premium varieties that are in their final trial stages and will come to the market in the forthcoming years to enhance our blueberry portfolio. These efforts will ensure that we are best prepared for the markets' preferences for many years to come."
Camposol said is looking forward to participating in the IFPA Fresh Produce Show in Orlando and as a sponsor in the Global Berry Congress GBC in Rotterdam in November.