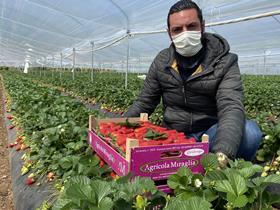 Italian production of Candonga strawberries is set to reach 27,000 tonnes in 2020. Producers in the Basilicata region in southern Italy have planted around 600ha of the Sabrosa variety, which was developed by Planasa in 2003 and is marketed internationally under the Candonga and Candonga Top Quality brands.
"The Sabrosa variety continues to be – almost 20 years after its launch – the reference strawberry for consumers all over the world both for its flavour and for its excellent characteristics," Planasa said in a press release.
"It also offers a guarantee to producers during the difficult situation that is being experienced all over the world, especially in Italy, because of Covid-19."
Such has been the success of the variety that Planasa has started monitoring markets and supermarkets in order to detect cases of counterfeiting and misuse of trademarks.
Francesco Miraglia, director of Agricola Miraglia and Candonga licensee, described Candonga as his passport to the market.
"We work hard and the consumer appreciates it by appreciating our product and buying it every day. I am not afraid of risks because Candonga is an absolute guarantee for me," he said.
"During these three years I have been able to appreciate the generosity of this plant. Sabrosa is a rustic variety and does not need assiduous interventions to control fungal diseases or nutritional constraints, so we can guarantee a healthy product to consumers."
Another producer and Candonga club member, Giupeppe Ligorio, who has planted more than 20ha of the variety, said prices have held up well during the first months of the season, in spite of the challenging market situation.
"Up to 13 March, we were seeing average prices of €4.5/kg, but in a few days we saw a slowdown in consumption and a rapid drop in prices, to the point of not even being able to sustain production costs," he explained.
"Prices have been rising slightly for a few days now. The production rates are excellent, and this year's harvest has started much earlier than in previous years. We are close to the production peak, in an early year where winter seems to have forgotten to come."
Loris Gentile, commercial and technical manager of Planasa's Italian division, Planitalia, added: "Consumers have been in love with this strawberry for years now, guaranteed by the great work done by the producers, to whom we must say thank you because they guarantee the high quality standards with a consequent high degree of customer satisfaction".
He said improvements in production and plant management techniques over the years have resulted in better quality and yields.
"In Metapontino, Basilicata, in addition to optimal soil and climate characteristics, Sabrosa has found highly specialised companies that invest more and more in agriculture 4.0 in order to guarantee perfection and offer a healthy and environmentally friendly product," he noted.
Another of Planasa's varieties, Sabrina, is also seeing positive results in Italy according to the company's commercial director Nino Foraboschi.
"We are very satisfied with the good results that Sabrina is achieving in this campaign, particularly in Campania," he said.
"At the same time, we are very enthusiastic because we already have growers who are testing a new and very promising selection, Plared 0639, for which we will soon announce a commercial name."