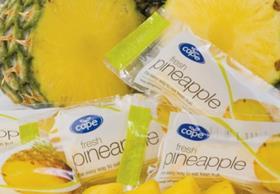 South African fruit company Capespan has formed a new joint venture company in Turkey called Mayfresh to supply and source fresh fruit and vegetables in the Mediterranean, Black Sea and Caspian Sea regions.
Continuing the group's recent expansion in developing markets, Capespan's European subsidiary Capespan Continent has taken a 50 per cent share in the new company alongside managing partners Nese Coruk and Metehan Aslantas, which together the other 50 per cent.
With one eye on highly promising eastern European, North African and Middle Eastern markets, one of Mayfresh's first moves will be to market Latin American bananas and pineapples under the Cape brand.
Announcing the deal, Capespan Fruit chief executive Leon van Biljon said the group was "on a quest" to partner with the best people and companies in areas where it saw solid growth potential for its range of fresh produce.
The group has also embarked on an aggressive expansion programme focused on primary production, sales and in-market, value-add services to retailers and other clients, a strategy apparently designed to cement its position as a year-round suppliers of selected quality fruit and vegetables.
"In its goal of increasing its footprint to provide relevance and sustainability to its stakeholders, Mayfresh is an exciting partnership that brings multiple benefits in creating this reality," the company said in a statement.
"Mayfresh, like the recent acquisitions of Capespan be it Aspen Logistics in South Africa and Good View in Hong Kong, is putting Capespan stakeholders in a position to offer greater efficiencies in terms of costs, products and superior service."
Van Biljon said both Nese and Metehan shared Capespan's passion for working with fruit and matching the ideals of growers and customers.
"Coruk has nearly 20 years and Aslantas six years' experience in the fruit trading markets and have built a reputation of integrity, superior service and loyalty to their customers and growers," he noted.
"They also have extensive corporate experience with one of the biggest fruit multinationals and this provides a good fit with the Capespan Group."
Trade crossroads
With its operational base in Turkey, Mayfresh appears well placed to manage supply into, as well as sourcing from, the Black Sea markets, servicing and growing a full range of fresh produce including deciduous fruit, citrus, sub-tropicals and vegetables.
Capespan also plans to source fruit and vegetables from countries in the region for its other marketing companies around the world.
"The incorporation of Mayfresh, will enable Capespan growers worldwide to have direct access into the Black Sea, Caspian and Mediterranean markets," van Biljon added.
According to Coruk and Aslantas, the Cape and Outspan brands have a strong market presence in these markets and they will concentrate on growing these brands.
Coruk said: "Capespan is already sourcing fresh produce from the Black Sea countries for their market requirements and we see the potential to consolidate and strengthen our supply base with these growers through our partnership in Mayfresh."
With a large and well-developed horticultural sector, Turkey produces a wide range of fruit and vegetables.
And as Capespan points out, it also offers Mayfresh a young and vibrant market surrounded by emerging markets in North Africa, Russia, Croatia, the Middle East and indeed the mature European market. "Its location is ideal as a gateway," the company said.
Coruk added: "By branding Latin-American-sourced bananas and pineapples with Cape, we'll be expanding our product line, catering for all Capespan offices in addition to other customers. This joint venture has been established at precisely the right time as customers are demanding more efficient and flexible service from suppliers, which is the core strength of Mayfresh."