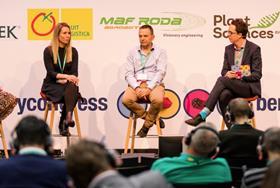 There is tremendous potential to increase berry consumption by introducing the fruit into new distribution channels, says Berry Gardens' head of new business development Amy Lance.
Speaking during a session on new commercial channels for berries at this week's Global Berry Congress in Rotterdam, Lance said vending machines, gyms, pop-up healthy food outlets were just some of the routes to market that were not yet being fully exploited.
Citing the success of meal box schemes in the US and UK, Lance suggested the inclusion of a breakfast or dessert option incorporating berries was a further example of new avenues that could be explored.
"There are diverse models where distribution is not consolidated – this is at once challenging and a great opportunity," she said.
"One of the biggest issues that we face is how to maintain good shelf life and stock rotation. Solving this is by no means simple but it can be done."
Lance said bringing the price point down was also important in order to ensure that the whole population has access to berries.
Hans Liekens, commercial director EMEA for Fall Creek Farm & Nursery, noted that generating more tasting opportunities would help capture new consumers. One way of doing this was by targeting a captive audience, for example by including berries in airplane desserts and hotel breakfast buffets.
Liekens also shared the breeder's strategy to help growers become more consumer focused rather than supply-led. The company organises regular field trips and tasting days bringing growers and retailers together to gain a better understanding of each other's needs and share key market information and insights.