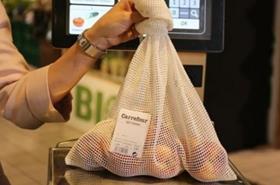 French retail giant Carrefour has announced that non-recyclable, bioplastic bags will disappear from its fruit and vegetable stalls as of this autumn, to be replaced by biodegradable kraft paper bags and reusable organic cotton bags.
According to Carrefour, the main drawback of bioplastic, or biobased, bags is that they are not recyclable, even though they largely consist of plant materials and are therefore, at least in theory, home-compostable.
When packing loose fruit and vegetables, shoppers at Carrefour will instead be given a choice between recyclable kraft paper bags and reusable organic cotton bags.
"Quickly adopted this summer by our customers in several test stores, the kraft bags are 100 per cent made of paper from sustainably managed forests (with FSC certification)," the retailer stated. "They will be rolled out gradually in all formats starting this autumn, provided in the fruit and vegetable departments in the form of bags with a translucent window, also made of paper, which will replace the current bioplastic bags."
Reusable organic cotton bags were launched last week on the occasion of European Sustainable Development Week, Carrefour revealed.
"They are available at €0.99, or €2.80 for a pack of three," the retailer stated. "Next, the cotton bags will also be made available in our convenience and Market stores. At the same time, all our stores will soon be offering larger kraft bags in tote version, at cost price (€0.09) at the checkout. There are alternatives to plastic, and that's why we are launching the Zero Plastic mission. It is up to us, all together, to show that we can do without it."