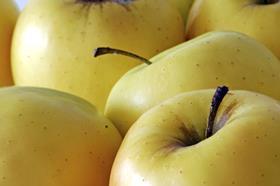 Catalan fruit association Afrucat says the region's apple stocks will run out before the summer due to this season's lower production and buoyant sales.
The association said the pallet price of Golden Delicious had risen sharply in recent days, noting that if sales continue on the trajectory seen in recent seasons stocks would be exhausted before the end of the season.
"The latest crop forecasts show that the general decline in Spanish and European production is even greater than previous estimates," said Afrucat CEO Manel Simon. "Prices have gone up by 15-20 per cent since last week."
Afrucat pointed out that January is typically a slow month for sales, with peak demand coming in February and March.
Frost, hail and heavy rains have resulted in a 16 per cent fall in Catalan apple production this season, according to the latest estimates.