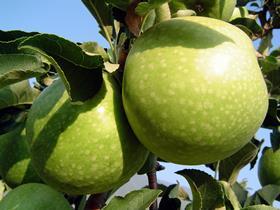 Catalonia is set for a lower topfruit harvest this season due to the impact of frosts and rains during the spring and localised hailstorms in June.
Preliminary forecasts from fruit association Afrucat peg the 2020/21 apple crop at 266,230 tonnes, a fall of 16 per cent compared to last season. The pear harvest is expected to weigh in at 130,990 tonnes, 7 per cent down on 2019/20.
Production is down across all apple varieties, but the biggest fall is in Granny Smith, which will see a contraction of 28 per cent to 25,040 tonnes.
Red apples are down 21 per cent at 14,420 tonnes and Golden Delicious, the most widely cultivated variety, is set to fall 17 per cent to 130,950 tonnes.
By region Lleida's apple harvest is down 16 per cent on last year at 189,360 tonnes; Girona expects a fall of 14 per cent (74,760 tonnes), Tarragona is down 3 per cent (1,150 tonnes) and Barcelona's harvest is down 1 per cent (960 tonnes).
Planted area is down 2.2 per cent in Lleida at 6,169ha and by 2.8 per cent in Girona at 2,356ha.
Afrucat said the harvest is running 5-10 days ahead of the 2019 campaign.
In pears meanwhile, output is down across the board, but most notable in Ercolini (down 21 per cent at 4,200 tonnes), and Williams and Bartlett (down 11 per cent at 16,490 tonnes).
Production of the main variety, Conference, is set to fall by 6 per cent to 68,290 tonnes. Afrucat noted that a good level of russeting is expected in this variety.
Geographically, Lleida and Tarragona are expecting a contraction of 7 per cent and 14 per cent respectively, while Girona's crop is up 5 per cent and Barcelona's by 2 per cent.
Planted area in Lleida, the main production region, has fallen by 3 per cent compared to 8,705ha while in Girona it has increased by 3 per cent to 182ha.
Again, the harvest is running ahead of last year by between five and 15 days, depending on the variety and region.