Chilean Blueberry Committee pegs exports of fresh blueberries at 82,000 tonnes for 2023/24
The Chilean Blueberry Committee and iQonsulting have released the first forecast for the new Chilean blueberry export campaign. Shipments of fresh blueberries are set to fall by 6 per cent in 2023/24 compared to the previous year, while frozen blueberry exports are expected to growth 10 per cent.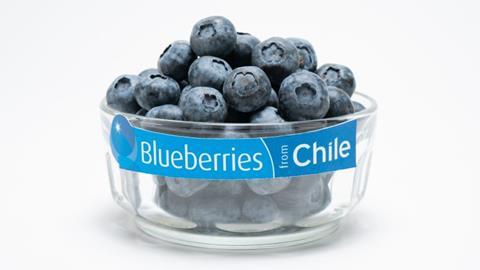 Planted area has contracted by 2 per cent compared to 2022, standing at 18,071ha. "This decrease is explained by old varieties of lower productivity and post-harvest life, of which 1,164ha have been uprooted, and the planting of 607ha of new varieties," said Andrés Armstrong, executive director of the committee.
He noted that new varieties now make up more than 20 per cent of the total planted area, with volumes projected to grow significantly in the coming seasons.
A greater proportion of varieties that have good productivity but have proven to be weaker post-harvest are being diverted to the frozen market, "an alternative that, managed for this purpose, is an attractive alternative for producers", Armstrong said.
The committee and its associated companies have adopted a strategy of varietal renewal and a move to more efficient productive management and logistical services that will allow them to reach export markets with more consistent quality and competitive costs.
"We are not speculating on what may happen with the Peruvian supply in December and January. We have a unique opportunity to show our clients that we can be a necessary and reliable supplier, and that is what our associated exporters are working on and focusing on," Armstrong said.
"Thinking that there could be an opportunity to continue exporting fruit that does not have the quality that the market needs and expects seems to us to be a way of attacking the future of our industry.
"The countries that compete with Chile, not just Peru, will continue with production increases in the coming years. There is demand for this growth, but only for fruit that meets current market standards."
Addressing any possible impact of El Niño, Armstrong commented: "It is still early to know the impact that this climatic phenomenon will have on our production and harvest periods.
"To date, the intense rains in the regions with significant blueberry areas occurred before flowering, so they have not had a major impact on productive losses. On the other hand, the lower accumulation of cold hours, a phenomenon that has strongly affected blueberry production in Peru, will have a lesser impact in Chile since it occurred in regions where blueberry production is not relevant in our country.
"We will monitor weekly the possible impact that probable rains, frosts and temperature changes associated with El Niño may generate on the volumes to be exported from Chile."