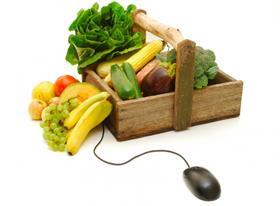 CH Robinson has pledged to bring supply chain expertise and technology to the aid of US grocery retailers facing 'unprecedented demand and consumer change' during one of the busiest food shopping seasons of the year.
With an analysis of US Department of Agriculture data projecting a US$250bn annual shift to food at home spend, and a FMI report showing a 300 per cent jump in online grocery sales, food retailers are contending with new challenges during an already busy holiday season.
"This will be one of the most challenging and unpredictable shopping seasons our generation has seen, which means food retailers need supply chain agility to help them react in real-time to changes in demand," said Michael Castagnetto, president, Robinson Fresh. "To meet shoppers' expectations, inventory now needs to be replenishable in a matter of hours – not days or weeks – which is why we are delivering insights and solutions that provide greater flexibility and visibility, from product origination to store shelf or digital cart."
Through its single, global, multimodal platform Navisphere, CH Robinson said it had been helping grocery retailers accommodate demand surges, tight transportation markets and ongoing uncertainty since the outbreak of the pandemic.
Now, it is looking to apply that same agility heading into the holidays, leveraging Navisphere to give retailers connectivity to inventory management services enabling quick order adjustments, access to industry leading retail consolidation services and integration with multimodal transportation solutions with direct-to-store delivery.
"Retailers rely on us to help get the products shoppers want in stock, especially now," added Castagnetto. "We are honoured to work with leading retailers to supply the product they need, as well as provide the expertise and scale to help them quickly adapt during an unpredictable holiday season where food is at the heart of so many traditions."
Customer study
A customer research study on changing grocery shopper habits, led by Robinson Fresh, revealed some of the biggest change-drivers in retail are here to stay, including that 70 per cent of shoppers plan to continue these changed habits of online shopping beyond the pandemic.
Additionally, the study showed that 48 per cent of shoppers prefer online shopping with delivery above curbside or in-store pickup, presenting a greater need to further integrate online and brick and mortar supply chains.
The perishable foods sector of food retail has seen the largest shift to online purchasing, with the study revealing 54 per cent of consumers are buying fresh produce online for the first time since the start of the pandemic.
"Speed to shelf, retail acceptance rate and having inventory in the right locations are all heightened challenges this year, especially as capacity is tight even several weeks ahead of the holidays,' said Mark Petersen, vice-president, North American surface transportation at CH Robinson. 'And, perishable products like pumpkins, cranberries and proteins such as poultry and other meat are always more difficult because you are working against the clock to ensure the product gets to the consumer while it's still fresh.
"We are laser-focused on solving customers' toughest supply chain challenges and delivering smarter solutions that help our shippers increase efficiency, reliability and gain a competitive edge, even in the most unpredictable of times."