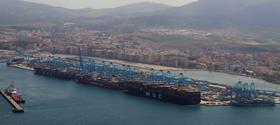 Hundreds of containers of fruit and vegetables from Latin America bound for the European market are being held up at the Port of Algeciras in southern Spain due to changes in the way EU sanitary regulations are being enforced.
Last Thursday the port authority warned of a "critical" situation as the strict interpretation of EU standards regulating fruit coatings by the Algeciras Department of Foreign Health had led to many containers being rejected, causing chaos to the port's cold chain logistics.
"Some containers are being destroyed or waiting to be destroyed, while many others are being diverted to other European ports," a spokesperson at the port told Fruitnet.
Gerardo Landaluce, the president of the Algeciras Bay Port Authority (ABPA), said the situation was "causing incalculable damage to an entire sector and to the port community that, after years of effort, had managed to make the Port of Algeciras a preferential entry point for horticultural products arriving to Europe from Latin America in the face of strong competition from northern European ports".
Fruitnet understands that the problem is the presence of alcohol in the wax coatings used to protect the fruit and make it more attractive.
"The European Commission would have requested a reinforcement in the controls to these products to verify that they effectively comply with the European Union regulations, establishing new procedures," the spokesperson said, adding 'but you would have thought that any such change should be applied equally strictly across all ports of entry".
One Spanish importer and marketer, which has a number of containers of mangoes detained at the port, told Fruitnet that importers were working closely with the port authority to find a swift resolution to the crisis.
"Right now we have been given two options, to wash the coatings off the fruit, or that it will have to go to animal feed," the importer said.
"The only other alternative is to divert the containers to another port, such as Rotterdam. But Dutch importers are getting ready to face the same issue."
Fruitnet understands that Spain's biggest retailer, Mercadona, has also appealed for the authorities to lift the blockade, but to no avail.
The APBA has called for an urgent resolution to the blockade, which it said was causing "very serious economic damage". It has also requested the creation of a National Committee of Experts to study how EU sanitary regulations are being applied in the main European ports.