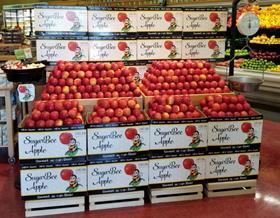 SugarBee apples, the brand new variety from the growers of Washington state's Chelan Fresh, are enjoying a strong marketing push as the variety looks to establish itself in North America.
The variety first hit the market in September, and since then Chelan Fresh has hosted dozens of SugarBee-themed community events, all designed to get the new apple in the hands and mouths of consumers.
"At a time when we're being driven to live online, it has been energising and gratifying to make real connections with real people, who are hungry to know more about us and what we do to bring food to their tables," said Chelan Fresh's director of retail strategy Julie DeJarnatt.
Getting the most attention has been the popularity of SugarBee's flavour, the group said, which has allowed the brand to open doors in new markets.
SugarBee growers from Chelan Fresh have taken their show on the road, hosting 75 in-store events so far to share the SugarBee story – and samples of SugarBee apples and cider – with shoppers.
The SugarBee brand also hosted a tailgate for football fans at this year's Apple Cup, the annual rivalry between Washington State University and University of Washington.
Most recently, the SugarBee mascot piloted a larger-than-life apple cart that rolled in the nighttime Christmas parade in one retailer's headquarters community. The huge apple cart was filled with SugarBee apples; a small hive of human bumblebees handed out SugarBee samples to parade goers.
Chelan Fresh's SugarBee events are part of a coordinated retail push-pull strategy to get the apple in front of retailer decision makers while also building consumer demand, notes DeJarnatt. For example, Chelan Fresh's Apple Cup tailgate was supported with radio advertisements driving listeners to SugarBee-stocking area retailers.
"SugarBee apples are easy to spot because our PLU sticker has a distinctive honeycomb design," said DeJarnatt. "That was very intentional, to help shoppers find us with certainty."
Recognising that an increasing number of customers are now shopping online, "We are also working to reach the customer who is no longer coming into the store," DeJarnatt said, noting that Chelan Fresh is working with retail partners to ensure that SugarBee is visible through their online stores, website content and social media channels.
"Everyone who tastes this apple is blown away. This apple's flavour is creating quite the sugar buzz," laughs DeJarnatt. "But seriously, in what is otherwise a very crowded apple category, the sweet flavour of this apple is opening doors with both consumers and retailers."