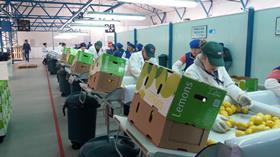 Chile and the European Union have started using electronic phytosanitary certificates – or ePhyto documents – for trade in plant-based products.
The new paperless system was implemented last week, five months after the project was unveiled in May.
Chilean Agriculture Minister Antonio Walker described it as "a great advance for our producers, since it not only represents an easier way to access the EU market, but also reduces costs, which is undoubtedly appreciated in these difficult times".
Moving to an automated system has been a priority for Agricultural and Livestock Service (SAG). Today, Chile can trade with 26 countries in this way, including Mexico, the US, Peru, Colombia and Argentina. Together they account for 70 per cent of all phytosanitary certificates issued each year.
The system is available for all phytosanitary export certificates to EU countries, with the exception of the Netherlands, which should be included by the end of the year.