Trade will prioritise quality over quantity, with more fruit being diverted to the frozen sector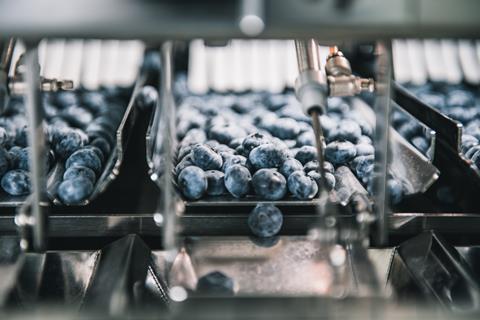 Exports of fresh Chilean blueberries will fall by 8 per cent to 98,228 tonnes in 2022/23 according to the latest published by the Chilean Blueberry Committee and iQonsulting.
The committee's executive director, Andrés Armstrong, said the priority this season would be the quality and condition of the fruit, rather than overall export volume.
"The Chilean blueberry industry, in an effort led by the committee and its associated companies, has been incorporating technologies and adapting its offer to the current conditions of competition in international markets," he told delegates at Fruittrade.
"One of the actions has been the renewal of its varieties, which has meant leaving some varieties for frozen export and also other industrial uses, at the same time that new varieties are planted with better post-harvest that allow expressing the flavour and sweetness that characterise the Chilean blueberry."
Armstrong noted that although substantial improvements are expected in logistics services this season, the overall export volume will decrease, prioritising the condition of the fruit.
Isabel Quiroz, executive director of iQonsulting, added that exports of frozen blueberries are expected to increase this season, reaching 60,000 tonnes or more.
"This represents an increase of more than 14 per cent compared to the previous year, maintaining the growth trend and also the diversification of markets," she said.
"The frozen blueberry from Chile maintains the sweet flavour of the fruit, which, together with a majority percentage of manual harvest, favours the quality that is appreciated and recognised in the world", she observed.
Quiroz added that this season presents better conditions for the export of fresh blueberries, such as cooler temperatures that favour the quality of the fruit and increased availability of workers for harvesting, packing and logistics operations.