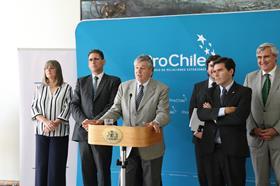 Export earnings from the current Chilean campaign fruit could fall by US$100m as a result of the coronavirus outbreak in China according to the most up-to-date analysis of the situation.
The figure was released following a meeting between the government and exporter association Asoex this week.
"After the end of the Chinese New Year celebrations, there were expectations that the market would recover, however, on Monday (10 February) only 68 containers of cherries were sold," said Asoex president Ronald Bown.
Of the estimated 1,500 containers of cherries that remain in the market, just 249 were sold during the first 48 hours since wholesale markets reopened.
"Prices of these preliminary sales have been lower than expected…and believe that if the current trend continues, revenues for cherry exports could fall by US$70-80m. If we add other fruits then losses could reach US$100m. However, this will depend on how the situation evolves," Bown said.
He noted that there is also concern about fruit currently in transit to China, believed to be another 1,600 containers, which is due to arrive between now and 15 March. This includes 59 containers of blueberries, 173 of cherries, 872 of plums, 387 of nectarines, 30 of avocados and 134 of table grapes.
He said Asoex is working with the corresponding phytosanitary authorities to try and divert this fruit to other markets in Asia, or even within China itself.
Chile has requested that the usual two or three day quarantine period be cut to less than 24 hours in order to ease the high levels of congestion at some Chinese ports. It also wants customs officials to clear arrivals on presentation of a copy of the phytosanitary certificate, rather than the original document.
In the meantime, Chile is ramping up promotional efforts to encourage the consumption of its fresh fruit offer, highlighting its nutritional benefits. Bown explained that this is mainly being done via online media, although some actions will also be carried out in retail chains.
"Likewise, the sector will also continue with donations of fresh fruit to clinics and health centres. The first delivery will be made during this week and will consist of 1,000 1.5kg cartons of blueberries, which will be donated to a hospital in Shanghai," Bown said.
Bown pointed out that while retail sales have picked up in recent days due to the government's ban on visiting traditional markets, stores are being hampered by the low number of employees reporting for work. The shortage of staff and product is also affecting online sales.