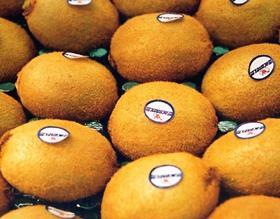 A fall in Chilean kiwifruit production and an increase in demand for fruits with high vitamin C content have resulted in strong demand for Southern Hemisphere kiwifruit this season.
In its most recent seasonal update for 2021, the Chilean Kiwifruit Committee said exporters were finding it hard to satisfy demand across all markets, a problem compounded by low stocks in Northern Hemisphere supply countries.
With harvesting now virtually completed, shipments to week 18 stood at 35,436 tonnes, a decrease of 16 per cent on the same period last year. This included 33,271 tonnes was Hayward, 664 tonnes of Dori, 609 tonnes of Jintao, 448 tonnes of Soreli, 382 tonnes of Green Light, 46 tonnes of Summer kiwi and 16 tonnes of Kiss.
"Although this season has been characterised by a decrease in volume of fruit to market, a mild summer season has allowed for the harvesting of fruit with good levels of soluble solids and dry matter, which ensure very good storage conditions and allow for an extended supply for those who want it," the report said.
This season has been characterised by the gradual recovery of the US and European markets, which have absorbed the bulk of the Chilean exports. Similarly, the overall good quality and condition of the fruit has allowed for an increase in the volumes over last season. Additionally, the Indian market has been very active from very early in the season.
Europe has taken 38 per cent of shipments this season, while Latin America, North America and Asia have absorbed 21 per cent, 17 per cent and 16 per cent of Chile's export total respectively.
"The short and medium-term scenario is characterised by an increase in both consumption and demand, not only on traditional markets, but also in India and Southeast Asia, so that this effect and the lower supply will make a stable supply important for marketers, who will probably make efforts to retain their supplying companies," the committee said.