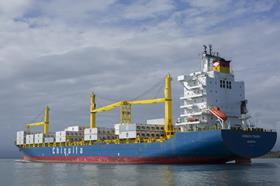 The boss of banana marketer Chiquita says he believes new investments in containerised shipping will ensure the group can provide even better quality fruit to its customers in Europe, while improving its logistical efficiency and reducing its impact on the environment.
The first ship to operate on the company's new containerised service from Latin America to northern Europe arrived at the Dutch port of Vlissingen from Panama earlier this week, in effect marking the end of its almost 120-year connection with conventional refrigerated vessels.
According to Chiquita president Carlos Lopez Flores, the new service will result in fresher bananas and longer shelf-life.
"At the end of the day, what we want to do is to provide the shortest delivery time in the most efficient way, minimising our impact on the environment and providing the best-quality bananas on the shelf to our different partners," he commented.
"Fully containerised shipping has the shortest time in the industry to deliver our bananas from Latin America to north Europe. We are proud to provide that service."
Chiquita's shipping subsidiary Great White Fleet will run five full-container vessels to transport bananas from Moin in Costa Rica to Vlissingen, which will act as a hub connecting Chiquita's supply line to other parts of northern Europe. Service provider Kloosterboer, which was already working with the supplier on conventional shipments, is understood to have signed a multi-year agreement to manage the handling of Chiquita bananas at the port.
The service will also feature new containers that can be controlled remotely to regulate their internal temperature and atmosphere, offering greater energy efficiency than older models, the group noted.
"This will also result in a positive environmental impact, as consumption of carbon dioxide has been reduced by 17,000 tonnes annually, as each new container is 50 per cent more energy efficient than older models," it stated.
The new vessels are also understood to have helped reduce the handling of fruit at ports and increased stowage capacity by 12.5 per cent, thanks to a more efficient storage from origin to destination, guaranteeing the cold chain. These improvements will mean more bananas can be moved per trip, using less energy whilst still ensuring the fruit quality is prioritised.
'Looking back over these past years work with the container fleet upgrade, we can proudly say we have achieved something remarkable' Flores added. 'We've saved an unprecedented amount of energy – the equivalent of the carbon dioxide emitted by 3,000 cars per year.'
Stefano Di Paolo, president of Great White Fleet, added: 'Chiquita is proud to offer its clients the best service in quality, time and efficiency.'