San Miguel will focus on consolidating its processed lemon business, while Citri&Co strengthens foothold in Southern Hemisphere
San Miguel is to sell its fresh fruit operations in South Africa and Peru to Spain's Citri&Co.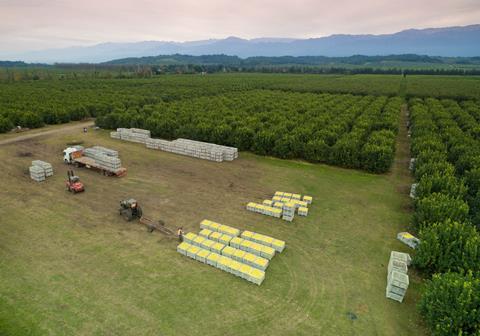 Under the terms of the agreement, Citri&Co will acquire 100 per cent of the shares of San Miguel Fruits Peru and San Miguel Fruits South Africa and become the exclusive marketer of San Miguel's fresh fruit production in Argentina and Uruguay.
San Miguel said the deal will allow it to strengthen its financial structure and reallocate capital in new investment projects aimed at expanding its product offering in its industrial business for the supply of natural ingredients to its strategic clients around the world.
The acquisition allows Citri&Co, a leading European vertically integrated fresh fruit company owned by Barcelona-based private equity firm Miura Partners, to strengthen its foothold in the Southern Hemisphere and continue growing internationally in destination markets such as US, Middle East and Asia.
The deal marks a new chapter in San Miguel's history as it aims to consolidate its global leadership in the industrial lemon business.
The company currently processes more than 340,000 tonnes of lemons from its farms in Argentina, Uruguay and South Africa every year, and accounts for 15 per cent of global production of lemon-derived natural ingredients.
It produces high value-added products such as essential oils, juices and dehydrated peel that it exports to food, beverage and fragrance and flavour companies around the globe.
Likewise, San Miguel will continue to produce and export around 60,000 tonnes of fresh fruit from the River Plate countries, which will be marketed by Citri&Co.
"We are very excited to start this new chapter in its successful history by focusing our strategy on the development and growth of the natural ingredients business through new investment projects to continue supplying our customers around the world," said Pablo Plá, CEO of San Miguel.
Over the past 12 years, San Miguel has made a significant contribution in South Africa by establishing new packaging, building a trust fund for employees, and promoting local development by creating more than 2,000 jobs each season.
In Peru, the company managed to increase efficiency levels and production in all crops, strengthening long-term relationships with the world's leading retailers.
"We are confident that Citri&Co has all the conditions to continue promoting fresh fruit operations in Peru and South Africa to the next level, as well as making a positive contribution to San Miguel to boost the marketing of its fresh fruit business," Plá said.