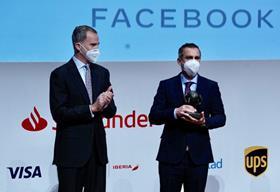 Postharvest specialist Citrosol has won the CEPYME Award for the best Spanish SME in the field of Technological Innovation for the second time.
The Valencia-based company first scooped the prestigious prize in 2015. It is presented to companies at the forefront of generating value through development and technological innovation.
CEO Jorge Bretó received the prize from HRH King Felipe VI at a special ceremony in Madrid last week.
"Citrosol's commitment to our clients and the quality of our work continue to bear fruit," the company said. "Thank you CEPYME for recognising our work in scientific research."