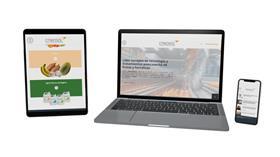 Valencia-based post-harvest specialist Citrosol has launched a new interactive website designed to appeal to today's technology-savvy generation.
"In keeping with the growing relevance of non-physical communication we aim to be a pioneer in the way we interact with our customers and the wider public in every part of the world," the company said.
The new website allows users to easily access information on Citrosol's extensive catalogue of post-harvest solutions according to which product it applies to, be it citrus, stonefruit, topfruit, tropicals, vegetables, fresh-cut or organic.
There is also a section where the company's team of technicians can respond to customers queries about how to get the most out of each post-harvest application system in order to increase the shelf-life of their products.
A separate news section provides access to the company's publications, product presentations, research studies and other developments in the post-harvest arena. This will be complemented with regular newsletter to which users can subscribe for free.
"A web page is the greatest online strategy for any company and we are also clear that our strategies, actions and objectives must be aimed at benefiting our clients," said marketing director Encarna Martí.
"This has been an expensive, long-term project requiring a lot of effort, but one that has led to a radical change to the current website that translates into real added value.
"We want to convey our full satisfaction with the final result and we hope that our clients perceive the competitive advantages of this renewed website."
Martí said the new website, citrosol.com, reflects the values ​​of the company, such as constant research to achieve maximum efficiencies, innovation and a commitment to the environment.