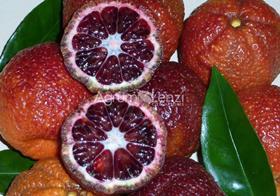 It is the same size as a clementine, but it has a larger peel and every year it takes on a colour that goes from dark orange-red to almost black.
We are talking about the rubino (ruby) clementine, grown by breeder Agrumi Lenzi in Pescia, in the Tuscan province of Pistoia. Deep in the heart of central northern Italy, the company boasts a production of more than 500 different varieties of citrus as well as fruits of Asian origin, all grown in 5,000 square metres of greenhouses with a nursery covering a further 1,000 square metres.
"The characteristic red colour from which the fruit gets its name is down to the presence of antioxidants," explains the owner, Maurizio Lenzi. "We're talking about a plant that is similar to the traditional clementine, but decidedly more vigorous and hardy. It stands up well to frost too, down to temperatures as low as five degrees below zero centigrade. It's a very productive plant and its leaves do resemble that of the clementine, except for the thorns."
With its sweet clementine taste, the ruby can be eaten fresh or turned into juice. "Consumers appreciate this product and the demand is good," Lenzi comments. "At the moment, we have around 500 plants and in future we will definitely increase our production."
The plants themselves are sold either via the breeder's website, direct to customers, or at exhibitions when these are possible. During the recent lockdown, the company saw a notable rise in online sales.
Another variety earns its stripes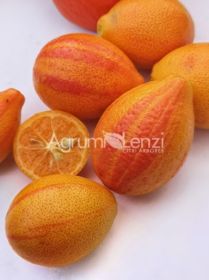 But the rubino is not the only eye-catching citrus on display at Agrumi Lenzi. There is also the variegated orangequat, for example, which can be eaten fresh or candied. The company has stepped up production of the stripy, elongated hybrid as demand reportedly grows.
"Its orange-coloured fruits resemble the Chinese mandarin, although they are larger and the skin has these different stripes," Lenzi notes. "In this case too, it's a strong variety which bears fruit without any difficulty."
There are plenty of even less well-known types on display. Among them are the fluted bitter orange, the Turkish bitter orange, and various fruits of Japanese origin like kaffir and sudachi limes, or the kabosu mandarin.
'We are passionate about these fruits and we like to be able to offer a vast range," Lenzi concludes. "In this way, we are able to satisfy an increasingly wide range of people who love growing and cooking, who enjoy experimenting with oriental ingredients and recipes."