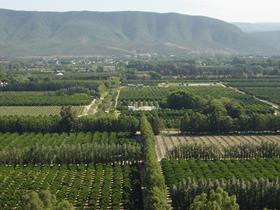 If the 2022 minimum prices for fruit currently being negotiated do not cover rising costs, the future profitability and sustainability of South African citrus growers will be threatened.
The future of the 120,000, mostly rural, jobs in the industry could also be at risk if prices do not cover these costs.
While celebrating the resumption of lemon exports to China as a promising start to the 2022 citrus export season, South Africa's Citrus Growers' Association (CGA) warned that the industry would face further major cost rises this year.
"South Africa is expected to see another big volume of fruit being shipped to key markets across the globe," said CGA chief executive Justin Chadwick in a newsletter to growers.
"However, of major concern is the exponential increase in input costs over the past year, which will no doubt put a major squeeze on growers' returns, after a challenging 2021 export season. These increases include fertiliser prices almost doubling, and agrochemical prices increasing on average by 50 per cent.
"Rising fuel prices have also placed a major strain on growers with little relief on the way – news reports this week have predicted another fuel hike in March," Chadwick continued.
Further exacerbating this situation is the increase in freight costs over the past year. On average, freight costs grew by approximately 30-40 per cent in 2021, with some markets being significantly higher.
These increases could climb to between 50 per cent and 75 per cent on average in 2022, with some markets already seeing a 150 per cent increase in export costs.
"If the 2022 minimum prices for fruit currently being negotiated do not cover these rising costs, the future profitability and sustainability of local growers will be threatened, and in turn, the 120,000 mostly rural jobs sustained by the industry," Chadwick explained.
One must spare a thought for fruit growers in countries across the Southern Hemisphere who are all facing the fall-out of the effect of cost increases – the result of changes in world trade due to Covid-19.
Sources in South America say apple growers in Argentina and Chile, as well as New Zealand producers, are also facing major challenges.
South Africa's citrus growers will meet with the CGA across the country during several pre-season sessions to set up plans for the year.
It is expected that the CGA will soon announce another forecast which will show a significant increase on last year's total export figure of around 163m cartons.
Also on the agenda will be logistics matters relating to shipping opportunities and efficiencies in South African ports and matters relating to changes to the rules for mitigation for CBS and False Codling Moth in the European Union.
Lastly, the Russian invasion of Ukraine and the resultant sanctions may threaten the exports of around 20m cartons of South African fruit, 13m-15m cartons of which could be citrus.
On top of everything else the events in Russia are not good for the South African fruit industry, and not good for other fruit growers in Africa and South America who supply Russia and surrounding countries.