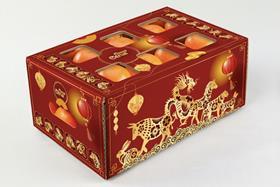 Classic Harvest is helping its customers celebrate the Lunar New Year. The US-based grower direct marketer has unveiled specially designed citrus cartons to mark the arrival of the Year of the Ox.
Available to both domestic and export customers buying navels, mandarins and Cara Caras, the cartons depict all 12 of the traditional Zodiac animals.
Jennifer Westerhoff, executive vice president of Classic Harvest, said the Lunar New Year celebration is gaining popularity the world over due to its positive messages and cheerful traditions.
"We are excited to introduce this tribute to the Lunar New Year ," said Westerhoff. "Following this strange year of uncertainty, we at Classic Harvest wanted to create a positive and upbeat store-ready display that everyone can enjoy. What could be better than citrus in a festive box – a ready-made gift."
Classic Harvest, founded in May 2014, markets a range of citrus, grapes and stonefruit year-round. It has offices, cold storage and packhouses in New Jersey, Florida and California.