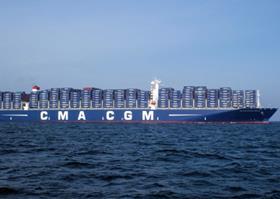 French shipping line CMA CGM has announced that its Black Sea Med Express service will be launched on 21 August to link up ports in the Black Sea with Algeria and Morocco.
Trade between Black Sea countries, including Turkey, Romania and Ukraine, and Algeria and Morocco is currently on the rise, encouraging CMA CGM to grow its presence in the Mediterranean.
It is the company's first service to offer weekly connections between the main ports of the Black and Aegean seas and the North of Morocco (Tangier and Casablanca) and Algeria (Annaba).
According to CMA CGM, the company offers some of the best transit times between Constanta in Romania and Casablanca (16 days), Ambarli in Turkey and Annaba (six days), Malta and Odessa in Ukraine (four days), and Izmir in Turkey and Malta (two days).
The proposed stopover in Malta, CMA CGM's hub, offers multiple opportunities for transshipment and intermodal transport thanks to efficient connections with other services operated by the group.