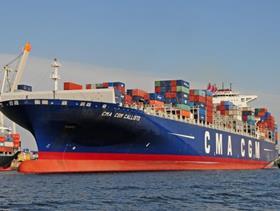 French shipper CMA-CGM has posted a significant loss over the first quarter of the year, a result attributed to a jump in fuel prices and a reduction in freight rates.
The container line announced a US$248m net loss in the three months to 31 March, despite a 2.6 per cent rise in sales to US$3.6bn and a 13.4 per cent growth in shipped volume to 2.6m TEU.
CMA-CGM said its results had improved sharply since the end of the first quarter, however, and the company stated it reached break-even operating profit in April as a result of a turnaround in freight rates and a decline in bunker prices.
In a statement the company said its Asia-Northern Europe routes, operated in partnership with MSC, and Asia-Mediterranean routes, operated in partnership with Maersk, were leading the improvement.
A cost-reduction plan is also expected to find US$400m in savings by the end of the year, CMA-CGM predicted, and the company expects to return to the black during 2012.