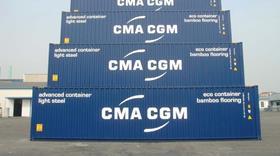 French shipping group CMA CGM has released its financial results for the first quarter of the year, highlighting a solid operating performance and resilient business activity despite the way the global economy and trade flows have been severely impacted by Covid-19.
The group said that, in the context of a slowdown in world trade and a decline in carried volumes, its revenues came to US$7.19bn, down 3 per cent compared to the same period last year.
'This contained decrease is achieved thanks to the diverse range of industries in which the group's customers operate, a balanced global presence, and the complementary nature of the group's shipping and logistics activities,' CMA CGM noted.
Operating performance improved significantly, with adjusted EBITDA up 25 per cent to US$973m, while net result group share was positive at US$48m, an increase of US$91m compared to the first quarter of 2019,
In the shipping segment, revenue declined by 3.3 per cent year-on-year, and volumes carried by CMA CGM decreased by 4.6 per cent due to the impact of Covid-19.
Nevertheless, revenue per carried container improved slightly, due mainly to the application of fuel surcharges, and adjusted EBITDA (excluding gain from sales) increased sharply by 31.6 per cent to US$836m.
"The good results of the first quarter demonstrate the strength and the resilience of the group,' said Rodolphe Saadé, chairman and chief executive officer of CMA CGM. 'During this unprecedented crisis, our customers have been able to rely on our agility, the expertise of our teams and the complementarity of our logistic and maritime offers, in order to ensure the continuity of their supply chains.
'Despite the uncertainty around global economy, we anticipate an improvement during the second quarter, thanks to our operational flexibility and our discipline in terms of cost control,' he continued.
'The current situation reinforces our conviction that it is essential to develop better balanced economic exchanges, whilst respecting the environment. We have set carbon neutrality by 2050 as our objective and we are ready to face future challenges."