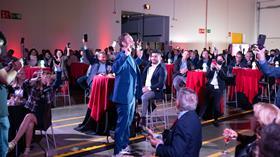 On 5 October, CMR Group hosted a gala evening at its headquarters in Madrid, CMR Infinita, to mark the third anniversary of its new platform in Madrid.
Under the auspices of Fruit Attraction, the company said the event was an opportunity to celebrate the ability for the trade to meet again in person after a long period of social distancing.
More than 250 of CMR's business partners, collaborators and friends enjoyed a gala evening featuring a performance from famous illusionist Jorge Blass, who delighted guests with a show full of twists.
CMR said the evening marked a welcome return to the path towards normalisation for the sector.