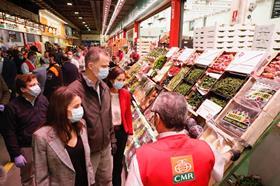 CMR Infinita, the Madrid subsidiary of Barcelona-based CMR Group, played host to the Spanish monarchs last week during a royal visit to Madrid's wholesale market, Mercamadrid.
During the walkabout, King Felipe of Spain and his wife Doña Leticia visited CMR's stall to chat with the management and commercial team about the functioning of the company and the wholesale market.
"The King and Queen showed an interest in our products and the work done by our commercial and logistics teams," the company said.
"Keen to learn more about the products on display, the particularities of the business and company, and the current challenges of operating under a health crisis, the royal couple were invited into CMR's sales office where they chatted cordially with our management team."