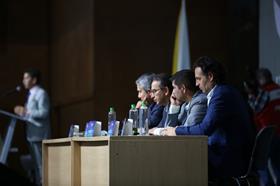 Colombia is rolling out the red carpet for the global avocado industry as it gathers in Medellín this week for the IX World Avocado Congress.
The three-day event – the biggest in the event's 32-year history – is expected to attract 3,400 delegates, 70 per cent of them from overseas, as well as 72 exhibiting companies and 150 expert speakers.
Opening proceedings on Tuesday, Pedro Pablo Díaz of Colombian avocado association CorpoHass said the congress was an opportunity for Colombia to set out its long-term vision for the industry and map its progress towards becoming the first top-flight avocado producer in the tropics.
Delegates then heard from the mayor of Medellín, Federico Gutiérrez, about the vital role the avocado industry has played in reviving a city and region once riven with violence.
This was echoed by Luis Emilio Pérez, the governor of Antioquia, who gave a moving account of the heavy debt Colombia owed to its farmers for being in the front line of the conflict that has blighted much of the country's recent history. He said Colombia's troubled past was at last giving way to a new era of hope for rural communities.
Colombia indeed has much to celebrate. Agriculture Minister Andrés Valencia told delegates that avocado exports are on course to pass 50,000 tonnes this year –a seventeen-fold increase in the past five years.
The minister also highlighted the country's progress in opening new export markets, noting that the first containers of avocados will shortly be shipped to China and Japan within weeks following the opening of those markets at the end of July.
Promising there would be no let-up in Colombia's expansion, Valencia outlined government efforts to improve access to the crucial US market, and said South Korea was the next market in its sights.
The minister also stressed that a major part of the government's strategy was to ensure that the sector grows in an orderly way in order to protect its profitability.
On the last day of the congress, Colombia's Vice President, Marta Lucía Ramirez, will announce the winner from the three countries bidding to host the next edition of the World Avocado Congress: New Zealand, Mexico and Kenya.