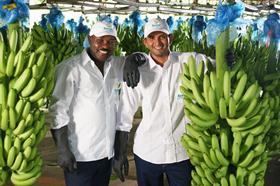 The Association of Banana Growers of Colombia (Augura) has donated 40 tonnes of bananas to disadvantaged people in the Urabá region.
Four of the association's member companies, Unibán, Banacol, Tropical and Banafrut, each delivered 10 tonnes of bananas to the municipalities of the Bananero Axisa.
Metaligas and Bana Rica delivered a further 20 tonnes of the fruit to vulnerable communities in Magdalena.
"Augura is committed to food security in the region and in the country. It is time to be united and to support each other," the association's president, Emerson Aguirre told Agronegocios.
"Urabá is bananas, and 85 per cent of the local population works in this industry. What better way is there of supporting your family basket with this tropical fruit that is a symbol of our country and that we proudly export? We will continue working for the region, Colombia and the world."
According to Augura, the donation is part of a pilot programme which seeks to supply bananas to the vulnerable population of the four municipalities that make up Colombia's Banana Hub.
As the fight to halt the spread of coronavirus intensifies, it was announced that banana workers union Sintrainagro has secured important protection measures for its 22,000 members.
In an agreement with Augura signed on 25 March, the union has negotiated a comprehensive COVID-19 support and health and safety protection package to safeguard banana workers, who are exempt from the 19-day nationwide lockdown enforced by the government on 25 March.
This guarantees that all workers will be provided with the necessary personal protection equipment such as faced masks and disinfectant, as well as introducing distancing measures, regular temperature monitoring of workers, staggered meals provision and strict enforcement of canteen hygiene.
The deal also states that active workers over 65 and all workers with pre-existing medical conditions which place them at risk, including risky pregnancies, irrespective of the nature of their employment contracts, are exempted from work for the duration of the government lockdown, during which they will receive the basic salary plus an 8 per cent supplement.
The implementation of the agreement will be monitored by a joint union-management health and safety committee.