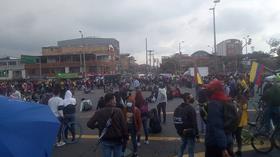 Losses to Colombia's agricultural sector are estimated to have reached US$3.6bn due to the national strike which began in late April.
According to the Ministry of Agriculture, supplies last month were even lower than when the country was in full lockdown due to Covid.
Since 28 April, Colombian has experienced a series of ongoing protests against increased taxes, corruption, and health care reform proposed by the government of President Iván Duque.
The ministry said 1.8 jobs in the agricultural sector had been put in jeopardy as a result of the unrest. More than 1.2m tonnes of perishable products are estimated to have been held up due to road blockades in some of the country's biggest agricultural producing regions, including Boyaca, Santander, Cundinamarca, Antioquia and Valle del Cauca.
Jorge Bedoya, president of the Society of Colombian Agriculturalists (SAC), told CNN that millions of dollars in exports had been lost due to the blockades.
He noted that while the situation had eased in some parts of the country where the movement of trucks carrying fruit had been allowed, many truck drivers were refusing to go to work for fear of violence, leading to an increase in the cost of transportation.