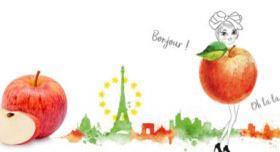 The 'European Rendez-Vous: Apples from France' campaign has landed in Colombia for the second consecutive year.
The campaign, a joint initiative from Interfel and the European Union, will feature a range of activities aimed at consumers and the trade focusing the quality and traceability of French apples.
France is looking to make headway in the Colombian market, where demand for imported fruit is growing every year. Last year the country reported around 3,000 tonnes of French apples and kiwifruit.
This season's apple harvest is forecast to reach 1.65m tonnes, according to Interfel.
"The quality of French fruit means for consumers a wide variety of references, respecting the seasonality of each one, as well as the organoleptic and nutritional quality of each product," the association said in a press release.
"Traceability is the second great advantage of French fruits and vegetables. Strict rules and numerous control processes carried out by independent organisations allow the complete transparency of each product for the final consumer: transparency from field to fork."