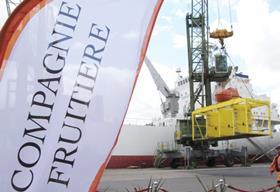 France's Compagnie Fruitière has announced the expansion of its distribution and import network for tropical fruits with the opening of a branch in the Romanian capital, Bucharest, together with a dedicated ripening capacity of more than 2,000m².
In the last five years, banana imports into Romania have increased by 145,000 tonnes, the company revealed, with significant sales growth for organic bananas.
"With more than 17 ripening chambers and a ripening capacity of around 1.1m packages per year, Compagnie Fruitière aims to meet the growing demand of its customers," the company stated, "and to easily serve the proximity of Bucharest and Ploiesti and, further, the large areas of the historic regions of Romania: Muntenia, Moldova and Transylvania."
The company intends to offer its entire range of SCB bananas across Romania, including Premium (conventional), Supreme (large sizes), Organic and Fairtrade, as well as a range of other fruits, including pineapples, mangoes and lychees.
Compagnie Fruitière is the leading ripening network in Europe, with 600,000 tonnes of ripened bananas a year and 22 distribution sites in Europe.