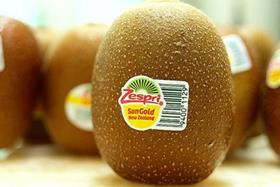 New Zealand-based kiwifruit marketer Zespri has taken a step forward in sustainability by announcing it will use new compostable labels developed by Sinclair International.
The Sinclair EcoLabelis food-safe and suitable for direct contact with fresh fruit and vegetables but its most unique feature is the entire label – face, stock, adhesive and inks – is compostable.
Zespri has been trialling the Sinclair EcoLabel prototype since 2010 but it will be using the labels commercially starting next season on all of its organic kiwifruit.
This comes after it was announced earlier in the year that the Sinclair EcoLabel meets European bioplastics standards and is independently certified by TUV Austria under OK compost and Seedling certification.
Carol Ward, chief innovation and sustainability officer at Zespri, was thrilled to have worked alongside Sinclair to develop the new labels.
"Zespri is committed to sustainability, including making sure we better protect our environment, and this is another important step forward for us, helping to further reduce our environmental impact," Ward said.
"We know our consumers want to see this sort of innovation and this is an important part of our mission to help communities and the environment thrive through the goodness of kiwifruit."
​Colin Woodward, chief executive and president of Sinclair International, said a lot of work had gone into reaching this milestone.
"Delivering Sinclair EcoLabel is a significant moment for Sinclair and the industry," Woodward said.
"We have been investing and working hard to meet customer, retailer and consumer calls to provide an independently certified, food-safe, fully compostable labelling solution to work on our automated and high-speed labelling technology."