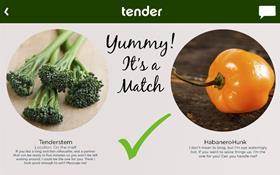 Following the introduction of new websites and advertising creatives in March, fresh produce brand management specialist, Coregeo is now launching innovative integrated marketing campaigns for Tenderstem and Pink Lady in the UK.
Driven by the desire to 'generate engaging news stories and online content that reflects the fresh personalities of its two key brands', the company has commissioned research-focused consumer PR campaigns that are expected to create 'significant sales opportunities'.
Working with Leatherhead Food Research, Coregeo has commissioned the Pink Lady 'Scale of Snackisfaction' designed to show, for the first time, how subjective emotions such as guilt or excitement can influence the satisfaction rating of a sensory experience.
The Scale of Snackisfaction will be used to measure how Pink Lady apples perform against other popular snacks with consumers having the opportunity to take part and win #Snackisfaction prizes for their workplace as well as engaging with experiential sampling activity taking place this summer.
Coregeo will also be revealing the findings of research conducted for Tenderstem this month, which reveals how the nation's couples feel about dinner dating.
Tapping into the growing trend amongst daters and settled couples to make time for 'Date Night' each week, Tenderstem has been asking couples how they really feel about their partner's eating habits. The results will form part of Tenderstem's Date Night campaign, during which Tenderstem will hit the dating scene through social media in a search for its perfect match from a selection of ingredients.
Coregeo has said that it is committed to an extensive programme of marketing for both brands for 2015, having conducted in-depth research and appointed a number of specialist agencies at the start of the year to support its growth through advertising, PR and experiential activity.
Both Tenderstem Date Night and the Pink Lady Scale of Snackisfaction have been created by PR and Social Media agency MCG.
"Both Tenderstem and Pink Lady have dedicated fans, but we're keen to spread the word about our two delicious brands further, so we focused on coming up with ideas that will encourage new people to talk about them and try them for themselves,' said Coregeo's chief marketing officer, Michelle Toft. 'The campaign for Tenderstem is designed to create real personality for the brand whilst educating consumers just how easy and versatile it is, whilst the activity for Pink Lady is all about showing what a healthy and delicious snack a Pink Lady apple can be – something we believe is a crucial growth area for the brand."