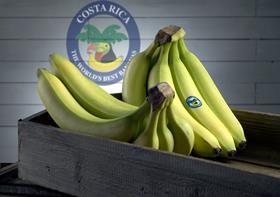 Costa Rican officials have expressed confidence that trade with Britain will continue unbroken following Britain's exit from the EU.
Some 7.4 per cent of the Central American nation's banana exports go to the UK, and maintaining that relationship is a key priority for producers.
Jorge Sauma, chief executive of the Costa Rican banana corporation Corbana, said that at a recent meeting with the University of Exeter, both sides stressed the desire to continue to trade at the current level.
"It's difficult to forecast, but what I feel is logical is to work together to maintain what we have in Europe," Sauma told Fruitnet. "We consider our fruit to be present in the UK and we hope to be able to maintain that market, which is very important for us. At the moment it's expectation more than reality as we don't know what is going to happen, but we think that we will maintain the market."
Sauma said the most logical option seemed to be if the UK simply duplicates the current arrangements that the EU has in place with Costa Rica, and expressed hope that will happen.
Meanwhile Costa Rica's foreign trade minster Alexander Mora told the International Banana Congress in Miami that the government wants to maintain its crucial trade routes with the EU and UK.
"I don't want to get ahead of myself, as I'm clear it's an important challenge which we face," he said. "Some people say it's a perfect storm but I can say that you can count on Costa Rica, which will work hard to take the decisions [required] to overcome this challenge."